Our "the_scoop" Feed
25 Aug 2022 10:19

Roxy Grows Up
Roxy is very energetic and keeps us going. She is growing by leaps and bounds. Here is her latest pic. She actually jumps onto the sofa, chairs, etc.
09 Aug 2022 16:40

New Family Member
Roxy a Mini Goldendoodle has joined our family and she is keeping us busy. She is active, curious and she loves to eat. Our number one responsibility is training, training, training...
03 Mar 2022 10:29

Linda donates all book profits to a Pinal County, Arizona, shelter and rescue at February 26 event.
Linda Gorman makes good on her commitment to give to worthy pet loving charities for every one of her books she sells. She had a good day at the Pinal County Animal Shelter & Rescues event last Saturday. For each sale, she contributed $10 to "Friends of Pinal County Animal Shelter & Rescues Inc." operated by Mera Laureys who aggregates it with other donations, all for the support of the shelter. As it says on her StoriesOfPetsByPetsForPets.com website, when she says she'll do it, she means it!
03 Mar 2021 16:43

Linda will be presented as a "Featured Author" of Author Solutions who is partnering with the (virtual) Tucson Festival of Books, March 6 and 7, 2021.
She is one of about 30 "Featured Authors" of a total author population of many thousands in the Author Solutions publishing network. As such, a 2.5 minute video presenting herself and information about her book "Stories Of Pets By Pets For Pets", published by a division of Simon and Shuster, will be played in an online Live Stream this coming weekend, March 6 and 7.

Here's the website page to Live Stream. Please notice Linda's video is scheduled to play at 11:15am on both days. But I'm not sure how precisely they will stick to the schedule. Apparently the Childrens/Fiction collection — her book category — will be replayed at 3:05pm.

Tune in and watch Linda make her pitch!

See her book as featured in the Author Solutions Market Place.

Her print book and now her audiobook version of the book are offered together on Amazon. Click the title of this item to go to her website where you can get three free stories from her audiobook. Don't miss the section about where to buy both her print book and audiobook!
18 Feb 2021 15:55

"Stories Of Pets By Pets For Pets" audiobook now available on iTunes, with two new free previews!
You can now preview two more of Linda's pet stories, "Puddin Pie" and "Suave and Debonair Bogey". Go to the iTunes listing by going to Linda's website and locating the iTunes listing in the Apple iTunes section in the left column, then clicking the associated button.
12 Feb 2021 08:56

Audiobook Released! Available now at Amazon and Audible.
Hear the pets tell their own captivating heartfelt and humorous stories, right out of the book Stories Of Pets By Pets For Pets! Spoken by "voice actors" accompanied by carefully chosen music and engaging sound effects, all coming together to dramatize the pets' lives and events highlighting the emotion the of these lovable pets. All from the pets' points of views. Eight months in the making by narrators author Linda Gorman and producer Ken Gorman. ENJOY!
03 Jan 2021 02:00

Be sure to check the new "About Charles Segal" section on the Stories Of Pets By Pets For Pets website.
A new section as been added to the Stories Of Pets By Pets For Pets website: "About Charles Segal". Charles graciously contributed a number of his songs for use in Linda's "audioplay" version of her book. Charles is an extraordinary musician and prolific songwriter. We are honored to include his music that so effectively enhances the mood of associated stories. The audiobook has been "released to retail", so that any day now it will be appear in Linda's Amazon listing for her print books and also be offered in iTunes and Audible.
14 Dec 2020 17:42

Update as to Availability of the Stories Of Pets By Pets For Pets Audioplay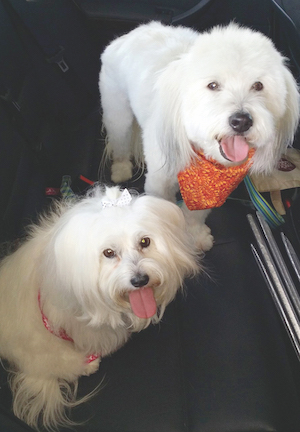 It looks like the Stories of Pets by Pets for Pets audioplay will be in retail in mid January if not earlier. The delay is in part due to the impact of COVID-19 at ACX, the distributor who also provides the final approval of submitted audiobooks, and in part, having to do with an iteration of the approval process in order to subdivide the Opening and Closing sections. That update has been completed and resubmitted to ACX for final approval of those changes. Because of this being a minor non-technical update (no changes to any audio), the approval process is being fast-tracked.

If you haven't already registered to be delivered email notifications when we post news here, this is a great time to do that. Simply click the Title of this item to start the process and follow the simple instructions. Be sure to click a link on the confirmation email that you will receive to activate your subscription.
02 Nov 2020 17:02

The AudioPlay of "Stories Of Pets By Pets For Pets" is now released to production
On November 2, 2020, Linda released the audiobook version of her print book, Stories of Pets by Pets for Pets, to production. After ACX (the Amazon-owned audiobook distribution firm) performs a final review of the production, it will be released to Amazon, iTunes and Audible -- the three largest purveyors of audiobooks. It may take 30 days for it to appear on those sites (and many more), in time for Holiday giving. See related item on her website, near the top of the left column. You will be surprised!

If you want to pass the word around (and she hopes you do!), you can give them the URL for this site or simply tell them to do an internet search on the term "Linda Gorman's book about pets". She gets far more than her fair share of 'hits' with that search term.
14 Aug 2020 16:01

Sneak Preview of the audiobook of Stories Of Pets By Pets For Pets! Coming this fall to a computer near you!

The audiobook of Linda's print book, Stories of Pets by Pets for Pets, is in production and expected to be released this fall! The first completed "AudioStory" is "Busy Busy Jasper". It is included on Linda's website for you to enjoy. The completed "AudioPlay" will include all 22 of the stories from her book.

Why the term "AudioPlay"? Because unlike virtually all the other audiobooks, her AudioPlay is presented by "voice actors" with embedded music and special effects. It's in the style of the radio plays popular prior the arrival of television. Let your imagination roam and hear the pets tell their stories as envisioned by the voice actors.

The AudioPlay will be available on Amazon (along with her print book), iTunes, and Audible that dominates the audiobook marketplace.
31 Jul 2020 03:53

Mobile Book Signing Event -- now that's customer service!
Whether it's making a delivery of her Stories of Pets by Pets for Pets book through a courtyard gate or doing a personal book signing on a bike ride, Linda knows how to keep things moving despite the Covid-19 disease.
30 Jul 2020 08:13

Mobile Book Signing Event -- now that's customer service!
Whether it's making a delivery of her Stories of Pets by Pets for Pets book through a courtyard gate or doing a personal book signing on a bike ride, Linda knows how to keep things moving despite the Covid-19 disease.
05 Jun 2020 10:09

A Boy and His Dog
Reading to his canine sidekick, enjoying the antics of Puddin' Pie in Linda's new book. How perfect is that!
06 May 2020 04:03

Books available directly from my stash
I have a stash of books at my in-home studio available for purchase. Call or email me to arrange pick-up time.
02 Apr 2020 12:22

FIRST SALE! Delivered Studio "GateSide" on April 1, 2020
I am pleased to announce the first sale of Stories of Pet by Pets for Pets to Bob and Le Ann. We had to be creative about the personal delivery method, given the COVID-19 disease, social distancing, and hand washing, as everyone in our community was abiding by all recommendations and requirements. We selected the front gate outside my studio and kept our customers on the outside. We briefly broke the six foot distance requirement, not wanting to throw the book at our customers.The payment check was transferred in similar fashion. OK, we staged the photo, and after about five minutes and lots of laughter, we were successful. After the handoff, all parties washed their hands.
22 Mar 2020 09:03

Welcome to my news about "Stories of Pets by Pets for Pets".
I'm excited to present a very unique collection of stories spoken by pets through their point of view. Updates will be posted here to keep you informed. You can follow me by signing up for email alerts delivered to you whenever items are posted here. To do so, click the "Follow Me" button posted above. Welcome to pet lovers of all ages!